SIOUX FALLS,
SD
Nestled among the trees along a winding private road in southern Sioux Falls is a mountain modern multi-level that is full of unique amenities. From the locally sourced wood detail to the underground 6-stall garage, this enchanting 6 bedroom, 5 ½ bath build from Deffenbaugh Homes packs contemporary comforts with unique features.
★★★★★
"We are very pleased with our decision to have Deffenbaugh Homes build our custom home. Their attention to detail, craftsmanship and expertise surpassed our expectations. … We are pleased with our experience, from start to finish, and would highly recommend Deffenbaugh Homes to anyone interested in building a custom home!"
The first thing that you notice about this nearly 6,000-square-foot home is the uncommon and gorgeous modified butterfly-styled design. The home is wrapped in beautiful cedar and lap siding with accents of stone and the rubber roof and large windows are highlighted by dark trim. Two large metal beams welcome you onto the covered entry and a unique pivot door opens to reveal the interior.
As you make your way down the locally sourced wood stairs inside and into the open main living areas, your eye will be drawn to the extreme height. With a sloped ceiling that goes from 17 feet on one side to 20.5 feet along the opposing wall, the expanse in front of and above you is eye catching to say the least. With durable and classic oak wood floors, white millwork throughout, and wood planked ceilings, this home is tastefully luxurious. Floor-to-ceiling windows run along the far wall and allow the space to be blend with nature flawlessly. Sliding glass doors lead out to an incredible multi-level stone patio and a thicket of land that runs all the way to the river.
The kitchen is beautiful and functional with two large quartzite islands, gorgeous light fixtures, high-end appliances, a large walk-in pantry, and a unique subway tiled backsplash that extends up the wall behind glass-faced cabinetry. Beyond the kitchen, the designated dining area is illuminated by giant windows and a stunning chandelier. This grand room also includes a wood burning fireplace with a stone exterior that extends all the way from the floor through the roof.
Continuing with the angled ceiling and large windows, the master bedroom also features calming grass cloth wallpaper and plush carpet. The master shares the stone fireplace and a gas insert allows for ease and comfort. The mastery of use in all materials makes the spa-like master bathroom an incredible experience. Large windows are placed throughout the space; a convenient upgrade allows the windows to be partially frosted with the touch of a button and privacy is quickly restored.
From the cement floating basin of the sink to the marble on the floors and shower walls, the use of materials is varied but combined in a very upscale way. The master bathroom also includes heated floors, an uncommonly shaped soaker tub, a zero-entry shower, and a walk-in closet that boasts its own stackable washer and dryer.
At the other end of the home, stairs lead to an upper level of bedrooms. Two large bedrooms each have 9-foot ceilings, plush carpet, sizeable closets, and share a Jack-and-Jill bath. A guest suite is down the hall; the attached bath includes its own walk-in closet, quartz countertops, and impeccably tiled shower.
Taking the stairs to the lower level you'll notice that the tall ceilings and white millwork continue. On one end of the hallway is a large laundry room. Next to it, a study nook is the perfect area for children. At the other end of the hall, you'll find another guest suite and a children's suite each with an attached bath.
Also accessible on this level is the entrance to the underground garage. With room for six cars, ample space for toys and tinkering, and a separate entrance and exit point, this garage is a dream design all by itself.
A few short stairs will lead you down to the lowest level of the home. While it is a basement, complete with plenty of storage space for those design extras throughout the year, the tall ceilings and open space make this large family room perfect for relaxing. A custom-built wet bar along the wall is a convenient and stylish addition. Another unique feature of this home is the expansive crawl space that runs underneath the home.
Within this stunning build, Deffenbaugh Homes has created a luxurious space that is also inclusive of the nature surrounding it. Uniquely designed, impeccably crafted, and with an understanding of usability, this home checks all the boxes. Tour this gorgeous Feature Home below and see all the amazing design for yourself.



The 5 Star Experience
Client Reviews
If you are looking for someone who truly cares, who truly wants to deliver a great product and someone you can work with – these guys are the real deal. Can't say enough good things about them. Handshake means everything.
Steve Watkins
Need a building site, a detailed floor plan/design and someone to transform the plan into a home? Contact Deffenbaugh Homes the best luxury home builder! We love our nice level and scenic lot, our beautiful new home with spacious open kitchen, breakfast room, comfortable family room and relaxing sunroom; adjacent laundry room; easily accessible storm room; convenient study; quilting room; enclosed mechanical room; state of the art HVAC equipment, plumbing, electrical and security that the Deffenbaugh Homes team built into our dream home….
Al Schneider
We found Jesse's development, a gem called The Crown at Arbor's Edge. We fell in love with a Big Sioux River lot which Jesse helped us pick out. The Deffenbaugh company and 4-D Design took it all to the next level. We feel they are the Number One builders in this area. The building process was outstanding. We are so grateful!
Susan Anderson
We met with several contractors and solicited many recommendations before selecting a builder for our new home. From the very first meeting it was apparent that Deffenbaugh Homes was in a class of their own. The Deffenbaugh team has a very rare combination of creativity and a structured organizational process that sets them apart from the rest. I couldn't imagine building with anyone else.
John Sievers
We had a great experience working with Deffenbaugh and Lauren from 4D! Jesse is very creative and hard-working. The entire team is great! We would use them again in the future for any renovation needs.
Laura Jacobson
The crew was always pleasant, great personalities, and enjoyed having them do our home remodeling projects. We would definitely recommend the team at Deffenbaugh Homes if you are looking to build or remodel.
Joyce Dabbert
From start to finish, the Deffenbaugh team provided quality workmanship in every aspect of our remodel project. The quote was spot on, the craftsmanship of each step of the project was excellent, and we were very pleased with the end result. We would highly recommend the Deffenbaugh team.
Marty Johnson
Second time I have contracted Deffenbaugh Homes to enhance our current home. One thing I love about this company is the budget closely matches the final invoice. They are also very flexible to add items as we see the need while they are on our property. The other piece and most important to us is that they follow up on any item that needs to be addressed. I NEVER get the run around that they are too busy to address anything that need to be fixed. Most reliable company we have contract with in the area!
Tim Hart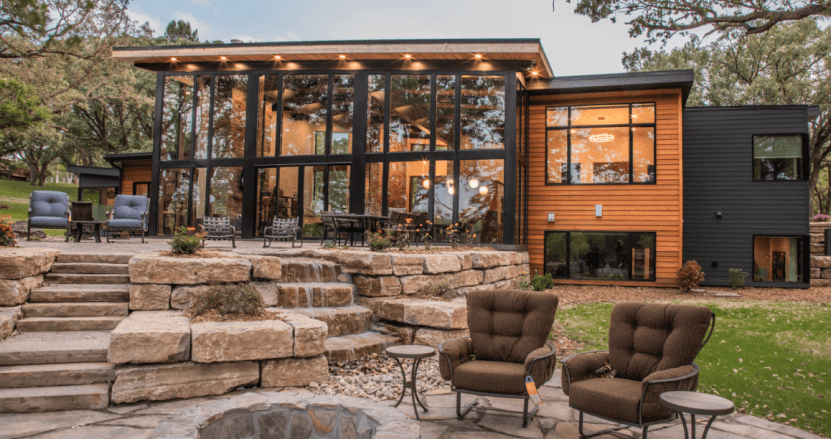 Browse Other Projects